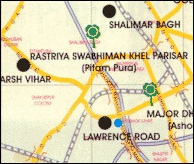 Online Membership Registration
| | |
| --- | --- |
| Location / Address | Rashtriya Swabhimaan Khel Parisar, Pitampura, Delhi - 110034(Near Pitampura TV Tower) |
| Contact Nos. | Reception - 27326147,27326265 |
| Area | 9.57 hact. |
| Email | rskpdda@rediffmail.com |
| Date of Commencement | Inaugurated on 11.05.99 and opened on Pay & Play. Membership launched on 1.9.2001 |
Membership
Membership to the Complex is open. Membership form may be obtained from the Complex on payment.
School and Colleges: Schools and Colleges can book the sports facilities on weekdays at special rates, for team and individual games. For Government and Government-aided schools there are further concessional rates for daily and monthly booking.
For Coaching Charges - click here.
For Rules & Regulations - click here.
| S.No. | Name of Facility | S.No. | Name of Facility |
| --- | --- | --- | --- |
| 1. | Badminton Court (Indoor and Outdoor) | 2. | Billiard Court |
| 3. | Canteen | 4. | Children Park |
| 5. | Cricket Ground | 6. | Gym |
| 7. | Lawn Tennis | 8. | Lawn Tennis Practice wall |
| 9. | Mini Football Field | 10. | Parking Area |
| 11. | Practice Pitch | 12. | Pro Shop |
| 13. | Skating Rink | 14. | Squash Court |
| 15. | Table Tennis Hall | 16. | Yoga /Aerobic Hall |
| 17. |  Karate | 18. | Taekwondo |
| 19. | Basket Ball court | 20. | Volley ball court |
| 21. | Swimming Pool |   |   |
Life Time Membership
Membership Type
Base Rate
GST 18%
Total
Government Service (incl. DDA)
₹ 11,703.39
₹ 2,106.61
₹ 13,810.00
Non - Government Service
₹ 23,398.31
₹ 4,211.70
₹ 27,610.00
Senior Citizen
₹ 4,677.97
₹ 842.03
₹ 5,520.00
Foreign Citizen
US$2,338.98
US$421.02
US$2,760.00
NRI
US$2,338.98
US$421.02
US$2,760.00
Associate
₹ 11,703.39
₹ 2,106.61
₹ 13,810.00
Student (Monthly Pass) (8 AM to 7 PM)
₹ 389.83
₹ 70.17
₹ 460.00
Corporate
Indian Company
₹ 117,000.00
₹ 21,060.00
₹ 138,060.00
Foreign Company
US$11,703.39
US$2,106.61
US$13,810.00
Temporary Membership (For 3 Months)
Indian Citizen
₹ 2,338.98
₹ 421.02
₹ 2,760.00
Foreign Citizen
US$4,677.97
US$842.03
US$5,520.00
Special Temporary Membership - STM (1 Year) & valid for Central Government Servants only
Special Temporary Membership
₹ 6,237.29
₹ 1,122.71
₹ 7,360.00
Special Honorary Membership
EXEMPTED
Casual Membership :-
Indian Citizen (Per Day)
₹ 76.27
₹ 13.73
₹ 90.00
Foreign Citizen (Per Day)
₹ 237.29
₹ 42.71
₹ 280.00
Guest
Guest (Per Person, Per Day)
₹ 59.32
₹ 10.68
₹ 70.00
Student
Student (Per Student, Per Month)
₹ 389.83
₹ 70.17
₹ 460.00
Student (Per Student, Per Day)
₹ 25.42
₹ 4.58
₹ 30.00
Type
Base Rate
GST 18%
Total
Individual Membership
Member
₹ 211.86
₹ 38.13
₹ 250.00
Dependent
₹ 101.69
₹ 18.30
₹ 120.00
Corporate Membership
Indian
₹ 1,076.27
₹ 193.73
₹ 1,270.00
Foreign
US$144.07
US$25.93
US$170.00
Sr. Citizen Membership
Member
₹ 127.12
₹ 22.88
₹ 150.00
Dependent (Below 60 Years)
₹ 101.69
₹ 18.30
₹ 120.00
Dependent (Above 60 Years)
₹ 59.32
₹ 10.68
₹ 70.00
NRI Membership
Member
US$211.86
US$38.13
US$250.00
Dependent
US$101.69
US$18.30
US$120.00
Foreign Membership
Member
US$101.69
US$18.30
US$120.00
Dependent
US$25.42
US$4.58
US$30.00
Associate Membership
Member
₹ 211.86
₹ 38.13
₹ 250.00
Special Honorary Membership
Member
₹ 211.86
₹ 38.13
₹ 250.00
Dependent
₹ 101.69
₹ 18.30
₹ 120.00
Absentee Membership (Not For Sr. Citizen Membership)
Member
₹ 67.80
₹ 12.20
₹ 80.00
Dependent
₹ 42.37
₹ 7.63
₹ 50.00
Hiring of Cricket Ground - General
Weekdays (Tuesday to Friday)
Base Rate
GST @ 18%
Total
₹ 10,067.80
₹ 1,812.20
₹ 11,880.00
Weekends (Saturday, Sunday & Holiday)
Base Rate
GST @ 18%
Total
₹ 13,983.05
₹ 2,516.95
₹ 16,500.00
Hiring of Cricket Ground - Corporate
Weekdays (Tuesday to Friday)
Base Rate
GST @ 18%
Total
₹ 17,898.31
₹ 3,221.70
₹ 21,120.00
Weekends (Saturday, Sunday & Holiday)
Base Rate
GST @ 18%
Total
₹ 26,847.46
₹ 4,832.54
₹ 31,680.00
Cricket Turf Practice Pitch
Member
Weekdays (Tuesday to Friday)
Base Rate
GST @ 18%
Total
₹ 1,322.03
₹ 237.97
₹ 1,560.00
Weekends (Saturday, Sunday & Holiday)
Base Rate
GST @ 18%
Total
₹ 1,584.75
₹ 285.26
₹ 1,870.00
Non-Member
Weekdays (Tuesday to Friday)
Base Rate
GST @ 18%
Total
₹ 1,983.05
₹ 356.95
₹ 2,340.00
Weekends (Saturday, Sunday & Holiday)
Base Rate
GST @ 18%
Total
₹ 2,644.07
₹ 475.93
₹ 3,120.00
Corporate
Weekdays (Tuesday to Friday)
Base Rate
GST @ 18%
Total
₹ 2,644.07
₹ 475.93
₹ 3,120.00
Weekends (Saturday, Sunday & Holiday)
Base Rate
GST @ 18%
Total
₹ 3,296.61
₹ 593.39
₹ 3,890.00
Name
Base Rate
GST @ 18%
Total
BADMINTON (FOR 40 MINUTES)
Indoor Badminton (Non-AC Court for 40 Minutes)
₹ 144.07
₹ 25.93
₹ 170.00
BILLIARDS/SNOOKER/POOL (FOR 40 MINUTES)
Billiards/Snooker/Pool
₹ 84.75
₹ 15.26
₹ 100.00
TENNIS (SYNTHETIC SURFACE COURT) FOR 60 MINUTES
Day Light
₹ 118.64
₹ 21.36
₹ 140.00
Flood Light
₹ 152.54
₹ 27.46
₹ 180.00
GYM
Member
Daily
₹ 194.92
₹ 35.09
₹ 230.00
Monthly
₹ 1,983.05
₹ 356.95
₹ 2,340.00
Non-Member
Daily
₹ 398.31
₹ 71.70
₹ 470.00
Monthly
₹ 3,957.63
₹ 712.37
₹ 4,670.00
MINI-FOOTBALL
Weekdays (Tuesday to Friday)
Base Rate
GST @ 18%
Total
₹ 1,322.03
₹ 237.97
₹ 1,560.00
Weekends (Saturday, Sunday & Holiday)
Base Rate
GST @ 18%
Total
₹ 2,644.07
₹ 475.93
₹ 3,120.00
Name
Base Rate
GST @ 18%
Total
RATES FOR BANNER / HORDING, TENTS / CANOPIES / STALL AND ELECTRICITY PIONTS
Banner / Hording
₹ 5,508.47
₹ 991.52
₹ 6,500.00
Stall / Canopy / Tent
₹ 5,508.47
₹ 991.52
₹ 6,500.00
Electricity Point (Maximum 03)
₹ 2,203.39
₹ 396.61
₹ 2,600.00
Name
Base Rate
GST @ 18%
Total
RATE FOR SCHOOL COLLEGE FOR TEAM GAMES (BASKETBALL & VOLLEYBALL DURING OF PEAK HOUR i.e. 10:00 AM TO 04:00 PM)
SCHOOL COLLEGES
Govt. School (For 2 Hours)
₹ 567.80
₹ 102.20
₹ 670.00
Other School / Colleges (For 2 Hours)
₹ 1,432.20
₹ 257.80
₹ 1,690.00
For Conduct of Annual Day Function (Per Day)
₹ 7,152.54
₹ 1,287.46
₹ 8,440.00
₹ 14,296.61
₹ 2,573.39
Security of Rs. 16,870/- (Refundable)
a). Allotments will be dependent of availability.
₹ 711.86
₹ 128.13
₹ 840.00
b). Shamiana/Tent of maximum size of 30 x 15 may be permitted in specified area on additional payment of ₹ 650/- per day.
c) Cost of damage be charged security deposit.
d) Area to be left clean.
 
BOOKING RATES FOR OTHER INSTITUTIONS / CORPORATES / PRIVATE INSTITUTIONS FOR TEAM GAMES (BASKETBALL & VOLLEYBALL) DURING OF PEAK HOURS, I.E. 10:00 AM TO 04:00 PM (06 HOURS) AND FOR FULL DAY
BASKETBALL
Rates for 06 hours 10:00 AM to 04:00 PM
Weekdays
₹ 5,500.00
₹ 990.00
₹ 6,490.00
Weekends
₹ 11,000.00
₹ 1,980.00
₹ 12,980.00
Rates for full days
Weekdays
₹ 7,703.39
₹ 1,386.61
₹ 9,090.00
Weekends
₹ 11,000.00
₹ 1,980.00
₹ 12,980.00
VOLLEYBALL
Rates for 06 hours 10:00 AM to 04:00 PM
Weekdays
₹ 5,500.00
₹ 990.00
₹ 6,490.00
Weekends
₹ 11,000.00
₹ 1,980.00
₹ 12,980.00
Rates for full days
Weekdays
₹ 7,703.39
₹ 1,386.61
₹ 9,090.00
Weekends
₹ 11,000.00
₹ 1,980.00
₹ 12,980.00
Name
Base Rate
GST @ 18%
Total
TENNIS COURTS HARD (Per Court)
Daily Basis
School / Colleges Sports Association / Federations (For 3 Hours)
₹ 211.86
₹ 38.13
₹ 250.00
Other Institutions (For 3 Hours)
₹ 432.20
₹ 77.80
₹ 510.00
Monthly Basis
For 3 Hours
₹ 432.20
₹ 77.80
₹ 510.00
TENNIS COURTS SYNTHETIC (Per Court)
Daily Basis
School / Colleges Sports Association / Federations (For 3 Hours)
₹ 711.86
₹ 128.13
₹ 840.00
Other Institutions (For 3 Hours)
₹ 1,432.20
₹ 257.80
₹ 1,690.00
Monthly Basis
For 3 Hours
₹ 1,432.20
₹ 257.80
₹ 1,690.00
SQUASH COURTS NORMAL (Per Court)
Daily Basis
School / Colleges Sports Association / Federations (For 3 Hours)
₹ 288.14
₹ 51.87
₹ 340.00
Other Institutions (For 3 Hours)
₹ 567.80
₹ 102.20
₹ 670.00
Monthly Basis
For 3 Hours
₹ 567.80
₹ 102.20
₹ 670.00
Name
Base Rate
GST @ 18%
Total
TABLE TENNIS (Per Table)
Daily Basis
School / Colleges Sports Association / Federations (For 3 Hours)
₹ 211.86
₹ 38.13
₹ 250.00
Other Institutions (For 3 Hours)
₹ 432.20
₹ 77.80
₹ 510.00
Monthly Basis
For 3 Hours
₹ 432.20
₹ 77.80
₹ 510.00
BADMINTON OPEN COURTS (Per Court)
Daily Basis
School / Colleges Sports Association / Federations (For 3 Hours)
₹ 211.86
₹ 38.13
₹ 250.00
Other Institutions (For 3 Hours)
₹ 432.20
₹ 77.80
₹ 510.00
Monthly Basis
For 3 Hours
₹ 432.20
₹ 77.80
₹ 510.00
BADMINTON COVERED COURTS (Per Court)
Daily Basis
School / Colleges Sports Association / Federations (For 3 Hours)
₹ 567.80
₹ 102.20
₹ 670.00
Other Institutions (For 3 Hours)
₹ 1,144.07
₹ 205.93
₹ 1,350.00
Monthly Basis
For 3 Hours
₹ 1,144.07
₹ 205.93
₹ 1,350.00
SKATING RINK CHARGES (PER HOUR)
Daily Basis
School / Colleges Sports Association / Federations
₹ 211.86
₹ 38.13
₹ 250.00
Other Institutions
₹ 432.20
₹ 77.80
₹ 510.00
Monthly Basis
School / Colleges Sports Association / Federations
₹ 2,144.07
₹ 385.93
₹ 2,530.00
Other Institutions
₹ 4,288.14
₹ 771.87
₹ 5,060.00