DDA commenced its housing activities in 1967 and has played a crucial role in providing more than a million houses to the people of Delhi. DDA has been constructing houses in Delhi according to the requirements and purchasing capacity of different strata of society. DDA, from time to time, has been announcing schemes through newspapers and advertisements for various categories of flats. Till date, DDA has announced approximately 52 housing schemes for the benefit of the people desirous of having a house in Delhi and allotment of houses has been made to registrants of all 52 Housing schemes.
Initially the residential dwelling units/flats would be allotted on Leasehold basis and the allottee needed to get them freehold, now the flats are allotted on Freehold basis conferring exclusive ownership rights to the allottees except in cases of allotment made to Persons on Hire Purchase basis or EWS Category who are allotted flats on subsidized rates.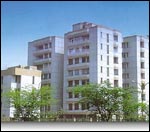 DDA has switched over from allotment from Offline mode to complete Online mode. The applicant/allottees need to visit DDA offices only for taking over physical possession of flats and execution of Conveyance Deed.
Housing Department is also assigned work of conversion of allotted residential units/flats to freehold. Since this scheme is voluntary, the applicant needs to apply his/her flat for freehold. The process of Conversion from Leasehold to freehold is now completely through online mode.
Pradhan Mantri Awas Yojna(Urban): Delhi Development Authority has been nominated State Level Nodal Agency (SLNA) for Vertical-1 i.e. In-Situ Slum Rehabilitation of JJ Dwellers residing in 376 JJ clusters existing on DDA and Central Government lands in Delhi and for implementation of Vertical 2, 3 & 4 of Pradhan Mantri Awas Yojana (Urban). Under the scheme JJ clusters are proposed to be replaced by pucca residential dwelling units under Public Private Partnership (PPP) mode using land underneath the JJ cluster as resource.

Under Vertical-2, Credit Linked subsidy is being provided through three nodal agencies i.e. National Housing Bank (NHB), Housing and Urban Development Corporation (HUDCO) and State Bank of India (SBI).