Master Plan of Delhi (MPD) - 2021
Brief Description
MPD-1962 was prepared with a perspective of 20 years i.e. upto 1981. Based on the experience of the plan and to cater to the increasing population & changing requirements of the city upto year 2001, extensive modifications to MPD-1962 were made under Section 11-A of the DD Act and the Master Plan for Delhi - 2001 was prepared by inhouse professionals of DDA.
The modified plan, MPD-2001 was approved by the GOI and promulgated on 1-8-90.
Brief Description
was the first step towards modern planning in India.
It was prepared with the assistance of

Ford Foundation

team.
It was promulgated on 1-9-1962.
It was formulated as per the provisionof Delhi Development Act, 1957.
aimed at the integrated development of Delhi.
The information contained in this section is indicative only. The data used is from secondary sources only. Based on these the proposals policies for the MPD-2021 are being formulated.
Making of the Plan
DDA is currently engaged in extensive modification of the Master Plan of Delhi - 2001 and is preparing MPD with a perspective up to 2021 to cater to the increasing population and the changing requirements of the city.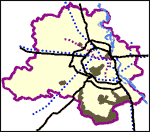 As a prelude to preparation of MPD - 2021, twelve subgroups have been constituted comprising:
Experts and Professionals,
Eminent Persons,
Public Representatives,
Concerned Departments,
Sectoral Studies
Series of Seminars inviting politicians, administrators,local bodies RWA's etc.
About 200 Experts are Delibrating on different aspects.
The Sub-Groups on :
Demographic Profile
Regional and Sub-Regional
Shelter
Trade and Commerce
Industry
Physical infrastructure
Traffic and Transportation
Social Infrastructure
Mixed Land Use
Conservation and Urban Renewal
Environment and Pollution
Development Controls
Stages:
Public participation through series of seminars and interaction with Residents Welfare Associations etc.
Recommendations of the sub-groups
Central / state government and authority advice-(Guidelines received from GOI - additional input being publicised for consultation with stakeholders)
Draft plan
Approval of GOI for issue of public notice to invite objections & suggestions.
Consideration of objections and suggestions
Final plan